Great info in the cost-of-living thread but we'd like to know how much it costs to eat out in restaurants in Mauritius (and Rodrigues since we are also going there).
We're not looking at luxury but not the bottom ones either. What should we expect to pay for a three course meal in an average restaurant? Thanks for any help.
Jo.
---

We're happy you found the cost-of-living article useful! As for restaurants in Mauritius, like elsewhere in the world, it depends on both location and standard.
You will find that the prices don't vary that much between Mauritius and Rodrigues, however Rodrigues is a small island in comparison and thus it has a limited selection of restaurants.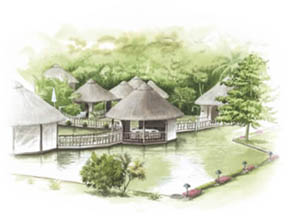 In Mauritius, a three course dinner in an "average" restaurant in La Preneuse or Tamarin, is around Rs 600-800 (approx EUR 14-18) excl drinks. In an upmarket restaurant, such as the popular Domaine Anna (pictured to the right) near Flic en Flac, expect Rs 800 and upwards for a three course dinner.
For restaurants within hotel grounds, expect west European prices on both food and drink. The same goes for many restaurants in and around the major tourist hubs (Grand Baie in particular, and some parts of Flic en Flac near Wollmar).
Mauritian fast food, such as samosas or vegetarian curry rolls can be bought from as little as Rs 10 (EUR 0,25) from street side fast food vendors. Fish or meat kebabs with salad and bread typically cost around Rs 30-40 (EUR 0,75-1,00).