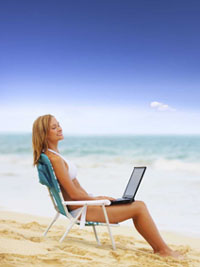 Internet access in Mauritius.
How can you get connected to the internet in Mauritius?
More and more holiday makers bring their laptops and ipads on holiday to stay in touch with friends and family back home. In Mauritius there are several ways of getting connected to the rest of the world.
If you are staying for a short while, there are numerous internet cafés across the island and most hotels and many cafés and restaurants offer free wireless internet to their customers.
If you are staying for a longer period of time, both Emtel and Orange provide prepay plug-and-play USB 3G solutions for convenient island wide internet access, including the island of Rodrigues.
A USB modem including SIM card is typically around Rs 2000 (approx EUR 50) but rates (including traffic rates) vary depending on the provider. You can find Emtel and Orange shops and showrooms in most of the major cities and towns across the island.
For the technically interested visitor, Mauritius is linked to the rest of the world through the Sub Saharan Undersea Network.
More specifically, the island is connected with South Africa and Malaysia through the South Africa Far East (SAFE) submarine communcations cable, that in turn connects to the South Atlantic and West Africa Submarine Cable (SAT3/WASC) for high speed links to Europe.
As of 2010, typical consumer internet access speed in Mauritius is 0,5-2Mbit/s download with ADSL.